Promising new TAVR techniques, valves to realize ideal of '1 procedure, 1 valve' for life
Eberhard Grube, MD Addresses THV Newcomers, Caveats in Evolving Field of TAVR at AP VALVES & SH 2022
Procedural and technological innovations of novel transcatheter heart valve (THV) systems for transcatheter aortic valve replacements (TAVR) may help open the door to the ideal of one procedure lasting a patient's lifetime, an expert said.
TAVR is being used increasingly in younger patients, making lifetime valve durability a top priority,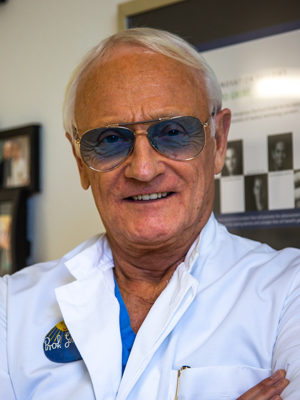 Eberhard Grube, MD (University Hospital Bonn, Germany) said at the Grand Walkerhilll Seoul in South Korea on Aug 11 while presenting at AP VALVES & STRUCTURAL HEART 2022.
"Ideally, we want one procedure and one valve lasting a lifetime," Grube said. "Ideal features include durability, simple and predictable deployment, low profile for transfemoral delivery, low complication rates and minimal interference with surrounding structures."
Despite THV powerhouses like Edwards Lifesciences (California, US) and Medtronic (Minnesota, US) building on industry-leading THVs and newcomers from China- and Singapore entering the arena, existing valves still entail tradeoffs and compromises on features.
"The balancing act between THVs means weighing strong, subjective opinions on features like valve durability, personalized sizing and paravalvular leak (PVL) prevention," Grube said. "Factors like safety, performance, patient-prosthesis mismatch (PPM), retrievability and strategies for future TAVR-in-TAVRs are also important."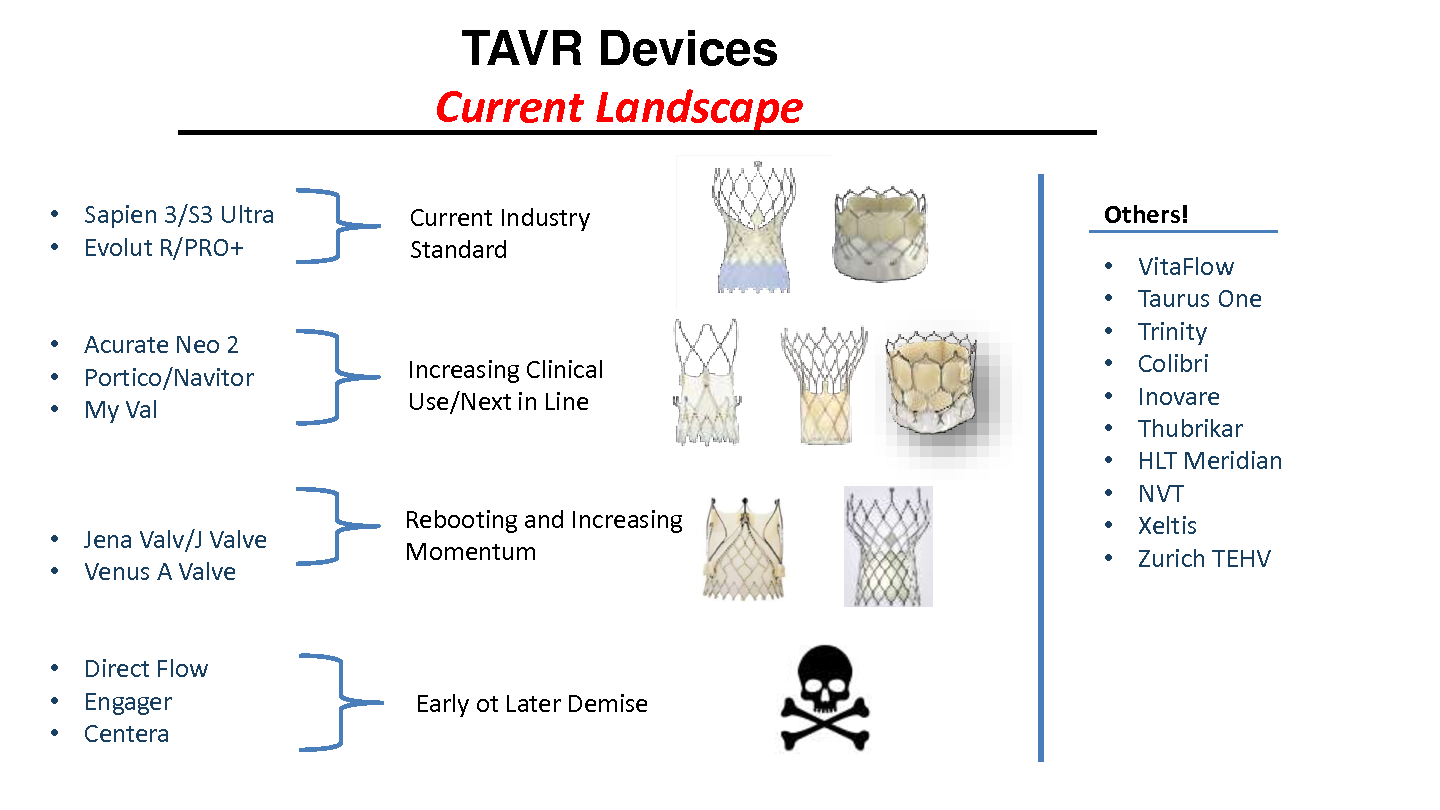 Grube presents innovation and caveats of transcatheter heart valves for TAVR at the Grand Walkerhill Seoul in South Korea at AP VALVES & SH 2022 on Aug 11.
Current THVs are classified as either tissue ("bioprosthetic") or mechanical valves. Bioprosthetic valves are composed partially of animal tissue while mechanical valves are sturdier with material like pyrolytic carbon.
THVs also vary in characteristics like valve height, implantation depth, the relative position of the valve or annulus and radial force1. Depending on these characteristics, valves are classified as balloon expandable (BEV) or self-expanding valves (SEV) and supra-annular or intra-annular valves.
"The caveat is that significant operator experience is needed to formulate thoughtful impressions on all the different valves but it's difficult to be an 'expert' of more than three TAVR systems," Grube said. "Future TAVR systems should be designed to treat all patients with aortic stenosis (AS), including those at lower operative risk or with bicuspid aortic valve (BAV) anatomy."
Innovation in Improved Industry-leading Valves
Existing players and newcomers alike are introducing innovation for THVs, either by building new-and-improved versions of leading TAVR systems or developing new ones that showcase novel designs and technologies.
"The evolution of heart valves from 1960 to 2020 went from 'non-living' mechanical and bioprosthetic valves to synthetic permanent polymers to 'living' regenerative material and tissue-engineered valves," Grube said. "The CoreValve Evolut R/PRO+ (Medtronic) and Sapien 3 (Edwards Lifesciences) devices are industry standards for SEVs and BEVs, respectively, and new versions continue to demonstrate iterative innovation of leading firms."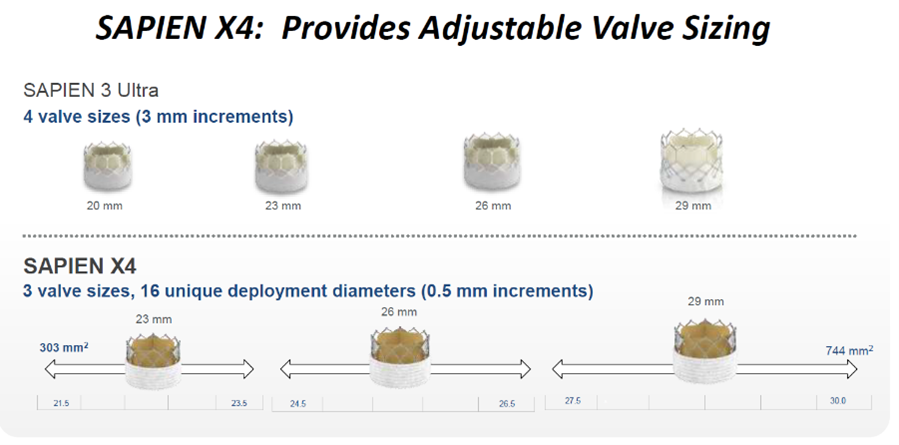 Sapien X4 by Edwards Lifesciences. Source: Grube slides at AP VALVES & SH 22
The upcoming Sapien X4 THV system, designed as an improvement of Sapien 3 Ultra, uses RESILIA tissue that offers enhanced anti-calcification technology and enables dry storage. It also maintains bovine pericardial leaflets matched for thickness and elasticity.
Sapien X4 features a high radial strength, cobalt chromium BEV design; and the novel frame and leaflet design enable adjustable sizing while maintaining valve performance over the diameter range of deployment.
The enhanced outer skirt with textured polyethylene terephthalate (PET) also helps minimize PVL and maintain low-profile access. Low frame height and large cells facilitate future coronary access, Grube said.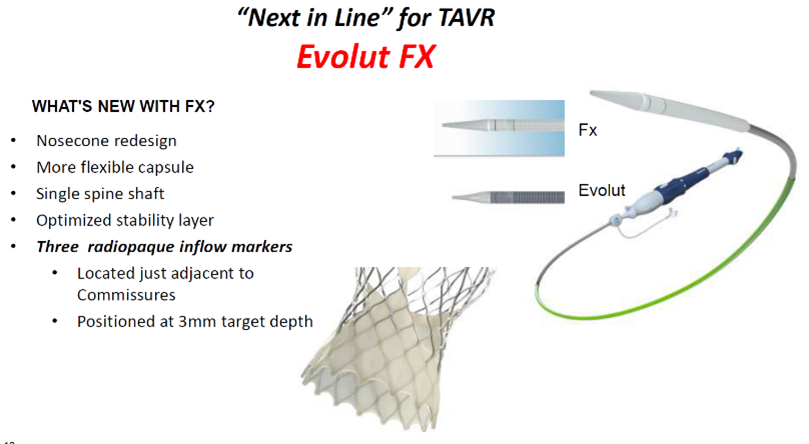 Evolut FX valve by Medtronic. Source: Grube slides at AP VALVES & SH 22
The Evolut FX valve is a next-generation device built upon the Evolut R/PRO+ valves by Medtronic.
The "next-in-line" valve features a redesigned nosecone shape, single spine shaft and optimized stability layer with more flexible capsules. It also has three radiopaque inflow markers located adjacent to commissures and positioned at a target implant depth of 3 mm.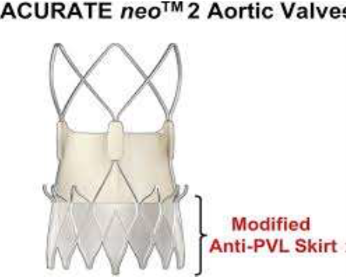 The ACURATE neo2 valve (Boston Scientific; Massachusetts, US) features enhancements to the previous ACURATE neo valve, improving PVL performance with inner and outer pericardial skirts.

"Reducing PVL with the next-generation valve iteration is necessary for the ACURATE neo2 to become a viable option for TAVR patients," Grube said.

ACURATE neo2 valve also showcases design updates for improved conformability in irregular, calcified anatomy and a new radiopaque positioning marker.
The Navitor valve (Abbott Vascular; Illinois, US) builds upon the Portico valve (Abbott Vascular). Navitor features an inner cuff, PVL-sealing with an outer polyethylene fabric cut, aortic stent cell design to minimize vessel trauma and aid release from the FlexNav delivery system and increased radial force for the 23/25 mm valves sizes.
Additional studies on the FlexNav delivery system and Navitor are underway, with the ongoing prospective, multicenter single-arm Navitor study aiming for approval in the EU and US for patients at high- or extreme-surgical risk.

Navitor valve by Abbott Vascular. Source: Grube slides at AP VALVES & SH 22
The Jena Trilogy valve is a reboot of the JenaValve by the Irvine, California-based JenaValve Technology The 18-Fr equivalent Coronatix catheter delivery system has a self-expanding nitinol frame with locator technology - aligned with sinuses and a set implant depth for avoiding low implants - that secures and seals valves in native anatomy.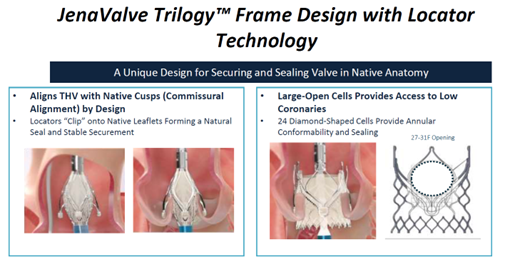 JenaValve Trilogy valve by JenaValve Technology. Source: Grube slides at AP VALVES & SH 22
"Results of the first commercial implants with JenaValve Trilogy in 27 patients with AS showed a 100% rate of technical success (VARC-3), 96.3% rate of device success at 30-days (VARC-3), 1 death, no permanent pacemaker implantations and 100% performance as indicated," he said.
"These data suggest that treatment of severe AS with the JenaValve Trilogy system is safe and effective, although more work on coronary alignment and bigger studies are needed."
JenaValve Trilogy received the CE Mark last year in the EU. The ALIGN-AR trial is underway for approval in the US, Grube said.
Promising Newcomers
J-valve Ausper valve by JC Medical/Genesis MedTech. Source: Grube slides at AP VALVES & SH 22
Systems from China are introducing novel device designs like dry leaflet technology, PVL prevention and ultra-low profiles.
The J-valve Ausper is a spinoff of the J-valve, developed by JC Medical (China), which was acquired by Singapore-based firm Genesis MedTech in February
2
.
The J-valve gained approval from China's National Medical Products Administration (NMPA) in 2017 and for compassionate use in the US by the US Food and Drug Administration (FDA) in 2019.
J-valve Ausper is a porcine pericardial tri-leaflet valve with a nitinol short self-expanding frame that allows for transfemoral delivery and the 27-Fr sheathless delivery catheter features independently operated 3D rings, called nitinol claspers, that align with native sinuses, orienting the valve stent and capturing leaflets.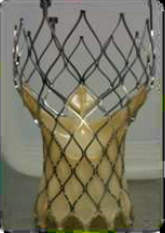 VenusA-plus valve valve by Venus Medtech. Source: Grube slides at AP VALVES & SH 22
The VenusA-plus valve (Venus Medtech; Hangzhou, China) is an expansion of the VenusA valve, approved in China in 2017, that features a reinforced shaft and capsule in the delivery system, enabling retrievability and positioning.
The VenusA-plus valve gained the NMPA's approval for use in China in 2020 and Thailand in 2021 by the Ministry of Public Health of Thailand.
Alternative Materials, Novel Techniques
For valve durability, alternative materials are rising as a golden prospect.
"It's all about the leaflets and material science innovation, and we are hopeful for new bioprosthetic valve platforms with improved durability profiles," Grube said. "Major valves incorporating alternative material include Sapien X4, Tria and DurAVR."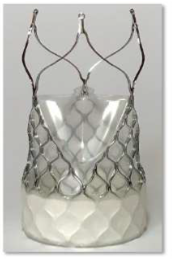 Tria valve by Foldax. Source: Grube slides at AP VALVES & SH 22
The Tria biopolymer aortic valve (Foldax; Utah; US) utilizes new polymer technology engineered to "potentially last a patient's lifetime."
Without using animal-sourced tissue, the Tria valve was designed for ease of access and created purely by robotic manufacturing, Grube said. "Studies on the surgical valve demonstrated accurate delivery, excellent hemodynamics at 90-days, no calcification and coronary re-access."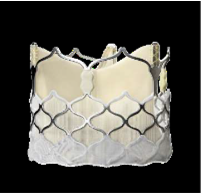 DurAVR valve by Anteris Technologies. Source: Grube slides at AP VALVES & SH 22
DurAVR (Anteris Technologies Limited; Australia) is a novel 3D single-piece BEV with a PET skirt to reduce PVL and a single-piece construction designed for commissural alignment.
Incorporating new leaflet technology, the DurAVR valve was designed to mimic the natural shape of the aortic valve and restore hemodynamic function to "near-normal levels" for better coaptation and reduced leaflet stress.
"The valve's tissue is acellular and detoxified without glutaraldehyde or calcification through a novel tissue engineering process," Grube said. "The anti-calcification tissue engineering process, called ADAPT-TEP, creates acellular tissue for lowering immune response and removes DNA, phospholipids and alpha-gal epitope."
Other new techniques like the Leaflex AVRT, lithoplasty, BASILICA and ShortCut Catheter are also promising, he said.
"Aortic valve remodeling therapies, like the novel transfemoral transcatheter Leaflex Performer (Pi-Cardia; Israel) employing an aortic valve (AV) scoring mechanism, have improved AV flexibility and reduce stenosis in pre-clinical studies in surgically excised human valves and human feasibility experiences."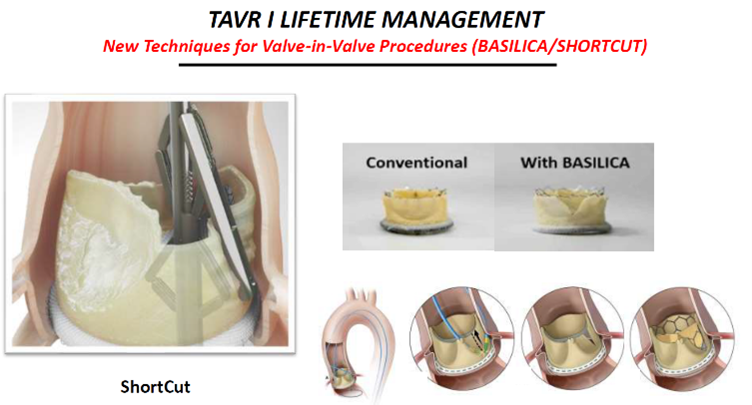 Shortcut Catheter by Pi-Cardia. Source: Grube slides at AP VALVES & SH 22
"Leaflex can help avoid or defer TAVR in younger patients who likely require multiple treatments including surgery, potentially helping sequence AVR strategies for younger AS patients."
The ShortCut Catheter ((Pi-Cardia; Israel) is a "simple" device that splits leaflets and potentially "opens the door to two significant indications for TAVR: splitting leaflets to enable valve-in-valve (ViV) and 'tricuspidization' of BAVs pre-TAVR."
"As new techniques for lifetime AS management and usage of AV remodeling increase, TAVR newcomers are developing novel designs for valves with features like dry leaflet technology and PVL prevention," Grube said. "Tissue engineering concepts are also quickly evolving and may spark a future round of improved valve leaflet designs."
Edited by
Do-Yoon Kang, MD
Asan Medical Center, Korea (Republic of)
Written by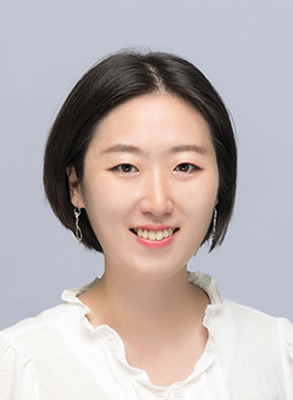 Grube disclosed financial interests or arrangements related representation as speaker bureau/SAB for Medtronic, Boston Scientific, HighLife Medical and JenaValve Technologies; equity interest in Venus Medtech (Cardiovalve), Claret Medical, Shockwave Medical, Valve Medical, CardioMech, Millipede, Imperative Care, Pi-Cardia, Ancora, Laminar and ReNiva Medical